1-800-936-7464

Over 25 Years Experience
Same Day Service Available
Please call for same-day service!
We deliver 24 hours a day, 7 days a week, 365 days a year.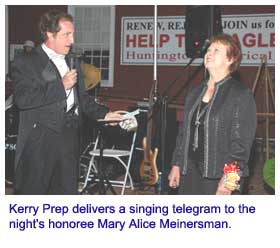 Huntington Historical Society's 20th annual Evening of Wine Under the Stars honored Bon Bons owner as the "sweetest woman in Huntington."
Hundreds of supporters of the Huntington Historical Society gathered on the grounds of the historic Dr. Daniel W. Kissam House on Friday night for the 20th annual Evening of Wine Under the Stars.
Huntington Town Clerk Jo-Ann Raia was among the many guests who turned out to enjoy the bounty of food and drink donated by local merchants, and to honor Mary Alice Meinersman, the owner of Bon Bons Chocolatier. Via the Huntington Patch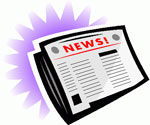 Ding Dong. Your Singing Telegram Is Calling
Even in an age of e-cards and Facebook greetings, nothing says "Happy Birthday" like an entertainer showing up at your doorstep in a chicken suit.
At least that's how the purveyors of singing telegrams see it. What started as a gag service in 1933, courtesy of Western Union, continues today through a range of companies that provide costumed performers of all sorts, from Elvis impersonators to "naughty nurses," delivering the musical message of your choice.
$129.50 for a seven-minute musical message of good cheer, courtesy of another chicken-suited performer. Preppygrams; (800) 936-7464. Via the Wall Street Journal


Me neither, until today. It's an online gag where you send someone a cool-sounding link (say, "Lindsay Lohan does calculus"), which really takes you to a video of Rick Astley's 1987 hit 'Never Gonna Give You Up."
It's the kind of thing you find funny if you sit in front of a computer all day.
An Internet nerd entrepreneur just stepped it up a notch by delivering a LIVE rickroll to one of his friends. He hired a singing telegram to croon the song in the middle of a staff meeting. The ensuing hilarity was filmed and put on YouTube. Read More!


New York Magazine's endorsement of Preppygrams in the October 8th, 2007 issue as a "Best Bet": Have a man in a chicken suit (or one of about 50 other outfits) sing "Happy Birthday" or a more embarrassing number. Same-day service ($99 to $125, depending on costume, by Preppygrams; 212-477-5533). Read More!

A tuxedo-clad Kerry Prep floats through the lobby of the Con Edison building in Brooklyn, N.Y., clutching three shiny silver balloons. Once inside the customer service department, he heads straight for Sherlene Blake, who sits unsuspectingly behind a Formica counter. "Are you Sherlene?" he asks. Read More!

The urge to rewrite them is often irresistible. "You're the Top" is a prime example - perhaps there never was a song that so invited imitation and parody. Songwriter Kerry Prep produced a counter-version titled "You're a flop":
You're a flop;

You're unsalted pretzels.

You're a flop;

You're a Ford named Edsel.

You're the sink, I think, that cannot be unclogged.

You are weak and puny,

You're Gerry Cooney,

You're L. A. smog! Read More!

Dressed in a white tuxedo, Kerry Prep neared the hospital room. Inside rested a man awaiting triple-bypass surgery. As Prep knocked on the door and softly called out his name, he realized he had made a big mistake. A quick glance into the hallway was enough to startle the unsuspecting patient. Prep may as well have had a halo of light circling his body as the man thought he had died and that Prep was sent from.....well anywhere other than a singing telegram company. "He thought I was Mr. Jordan coming to get him for his journey to the pearly gates," Prep recalled. Read More!

Barely on time to deliver a singing telegram (which for business identification purposes, he calls "Preppygrams"), Kerry Prep was driving south on the Brooklyn-Queens Expressway four years ago, when what appeared to be a rolled-up carpet rolled violently off the roof of the car traveling in front of him. That car decelerated immediately and began easing toward the right shoulder. Prep braked and followed, his mind only having begun to sift through the information his senses had experienced and to absorb, detail-by-detail, that the rolled-up carpet actually might have been a man, and that the car in front of him had struck the man, catapulting him over the roof of the car and onto the pavement, probably killing him. Read More!

For the new college graduate who's not quite ready to join the ranks of the entry-level, here's a guide to help them "think outside the cubicle" as it presents a wide range of job and travel opportunities for the free-spirited twentysomething who yearns to create a long- or short-term adventure. Delaying The Real World: Cool Things to Do Before Getting a "Real" Job By Colleen Kinder. None other than Preppygrams founder Kerry Prep is quoted on page 212. Read More!

Kerry Prep is cited again! Acknowledged as the actors' MOST COMPREHENSIVE SURVIVAL GUIDE since its debut in 1986, HOW TO BE A WORKING ACTOR is now completely revised, updated and expanded to meet the changing needs of the working actor in the new millennium. Read More!
Office Hours:
Monday - Friday— 9:30 a.m. to 5:30 p.m.
Saturday — 10:00 a.m. to 2:00 p.m.

1-800-936-SING (7464)
For in-person deliveries outside of the New York Metro area, please call
1-800-886-7464 and ask for extension #304.

Local deliveries for New York call: 212-477-5533
For Long Island: call 631-385-9337
Text your inquiry to: 516-524-3920

kerry@preppygrams.com

When e-mailing for a price quote, please include the location as well as the date of your delivery to expedite your request!
PLEASE NOTE: We ask for a one-hour window delivery time and guarantee to show up within the time slot specified. Customer assumes responsibility that a singing telegram is allowed at the destination, as well as ensuring the recipient is at the delivery site at the time agreed to. 48 hours notice is required for cancellation. Any orders placed within 48 hours of the event, cannot be cancelled.


Preppygrams Singing Telegrams