1-800-936-7464
Singing Telegrams in News York City, The Bronx, Brooklyn, Manhattan, Queens, Staten Island, Westchester, Long Island, Fairfield County, CT. and parts of Rockland and Duchess Counties, and New Jersey
Send a singing telegram for any happy occassion: Birthdays, Anniversaries, Birth of a Baby, Bridal Showers, Retirements, I'm Sorry, Marry Me!, I Love You, Goodbye, Good Luck, Promotions, Congratulations, Get Well, All Holidays or any other special occasion you might think of!

As featured in: The Wall Street Journal, New York Magazine, Newsday, People Magazine, Dan's Papers, The New York Times, WCBS Television New York, FOX-5,
A & E, Bloomberg Radio and Cablevision News 12.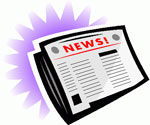 Ding Dong. Your Singing Telegram Is Calling
Even in an age of e-cards and Facebook greetings, nothing says "Happy Birthday" like an entertainer showing up at your doorstep in a chicken suit.
At least that's how the purveyors of singing telegrams see it. What started as a gag service in 1933, courtesy of Western Union, continues today through a range of companies that provide costumed performers of all sorts, from Elvis impersonators to "naughty nurses," delivering the musical message of your choice.
$129.50 for a seven-minute musical message of good cheer, courtesy of another chicken-suited performer. Preppygrams; (800) 936-7464. Via the Wall Street Journal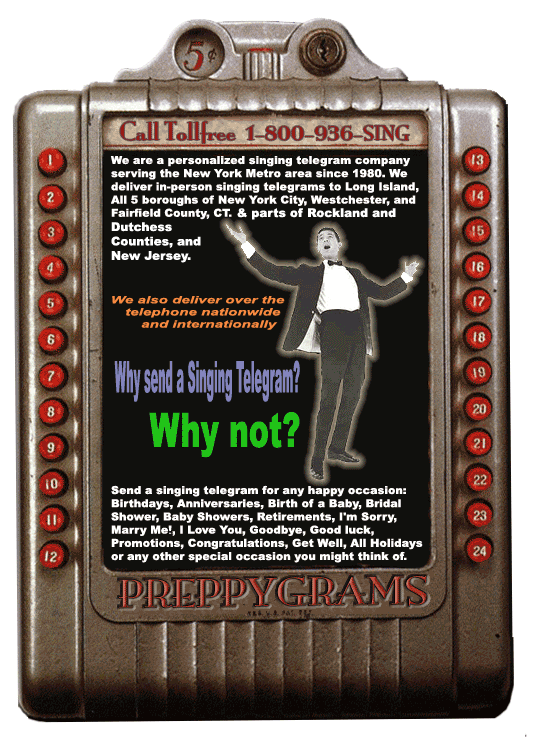 Over 25 Years Experience
Same Day Service Available
Please call for same-day service!
We deliver 24 hours a day, 7 days a week, 365 days a year.
Office Hours:
Monday - Friday— 9:30 a.m. to 5:30 p.m.
Saturday — 10:00 a.m. to 2:00 p.m.

1-800-936-SING (7464)
For in-person deliveries outside of the New York Metro area, please call
1-800-886-7464 and ask for extension #304.

Local deliveries for New York call: 212-477-5533
For Long Island: call 631-385-9337
Text your inquiry to: 516-524-3920

kerry@preppygrams.com

When e-mailing for a price quote, please include the location as well as the date of your delivery to expedite your request!
PLEASE NOTE: We ask for a one-hour window delivery time and guarantee to show up within the time slot specified. Customer assumes responsibility that a singing telegram is allowed at the destination, as well as ensuring the recipient is at the delivery site at the time agreed to. 48 hours notice is required for cancellation. Any orders placed within 48 hours of the event, cannot be cancelled.


Preppygrams Singing Telegrams